QA Surveys
Quality Assurance Survey 2016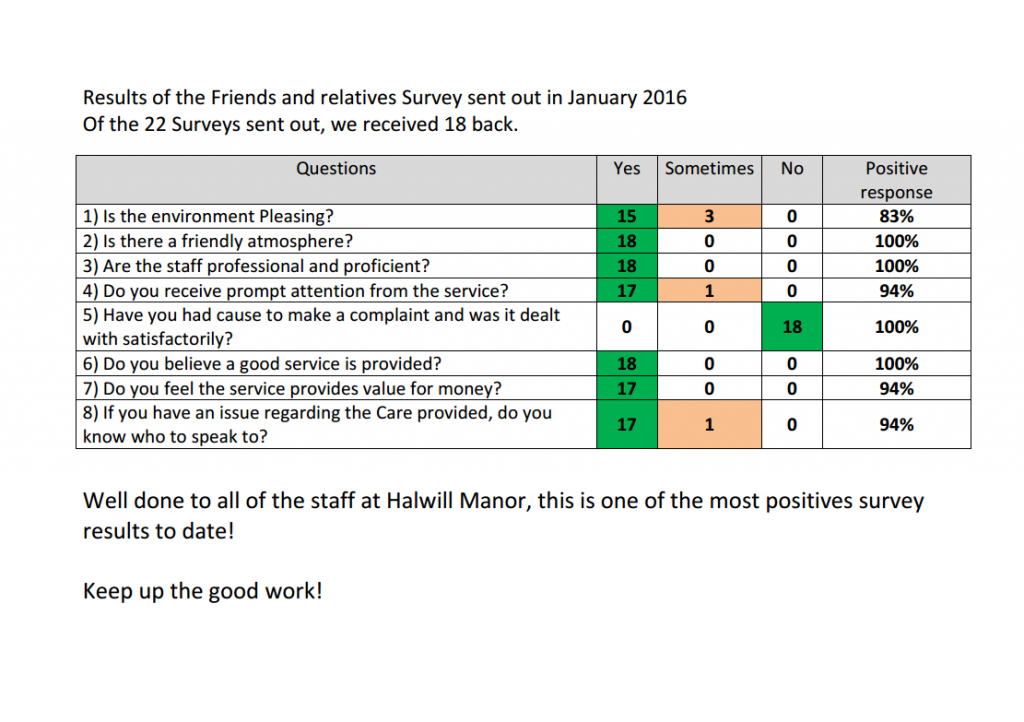 Quality Assurance Survey 2012
In 2012, we undertook our first Quality Assurance Audit when we surveyed the opinions of both our residents' families and the healthcare professionals who regularly visit Halwill Manor.
You can read the results of the survey by clicking here.
We wanted to know exactly how well we performed in every area so that we could effectively plan to improve our service.
In the years since we have taken action and introduced significant improvements to the home.
A 'Social Needs' program was created through research, training, and comparison to other professionals and providers in the nursing home world. We are constantly looking for ways to improve the home and the care we provide for our residents – if you have any suggestions please do contact Richard McSpadden to discuss them.
What to do now
The only way to really find out if a home is suitable for your requirements is to go and visit it. We sincerely hope you'll come and see for yourself the exceptionally high levels of care and dedication to giving your loved one a happy, safe and secure life to be found at Halwill Manor.
We'd loved to meet you and the kettle's always on so don't hesitate to call in anytime or call us on 01409 221233 for a confidential chat about your requirements.
We look forward to hearing from you.
Sincerely
Jacqui Mirjah
Proprietor